Elizabeth C. Crosby
Published

1 Feb 2021

Author

Calli McMurray

Source

BrainFacts/SfN
Neuroscientist Elizabeth C. Crosby studied the brains of a wide variety of vertebrates. She earned the National Medal of Science for her life's work.
Brain Bytes showcase essential facts about neuroscience.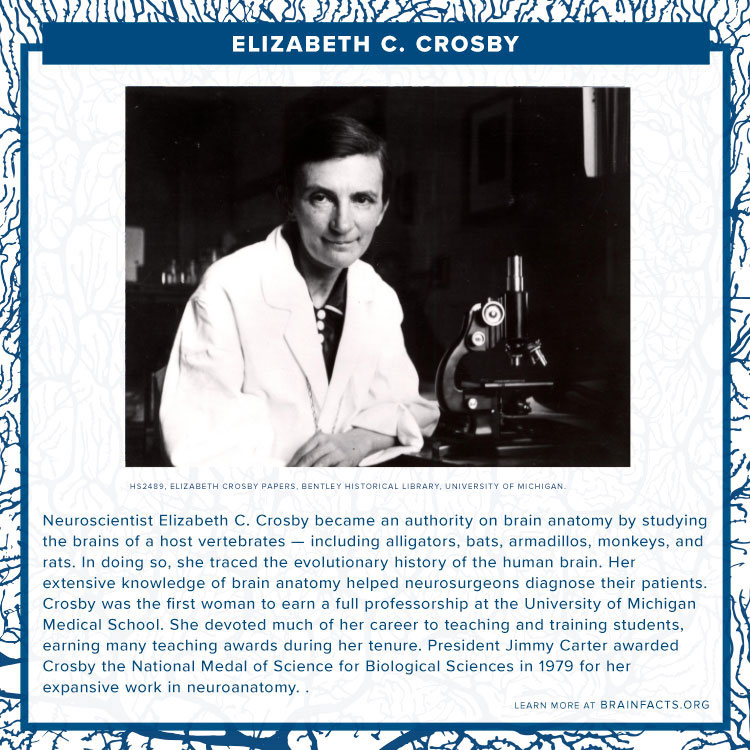 Design by A. Tong
Design by Adrienne Tong.
Image by HS2489, Elizabeth Crosby papers, Bentley Historical Library, University of Michigan.
Woodburne, R. T. (1959). Elizabeth C. Crosby. A biographical sketch. The Journal of Comparative Neurology, 112(1), 19-29. doi:10.1002/cne.901120105
Elizabeth C. Crosby. (n.d.). Retrieved November 02, 2020, from https://miwf.org/timeline/elizabeth-c-crosby/
Portteus, D. (2017, May 23). Influential Women: Crosby excels as educator, researcher. Retrieved January 21, 2021, from https://www.monroenews.com/news/20170524/influential-women-crosby-excels-as-educator-researcher
Lauer, E.W., & Carey, J. (1959). Bibliography of Elizabeth C. Crosby. Journal of Comparative Neurology, 112. https://www.semanticscholar.org/paper/Bibliography-of-Elizabeth-C.-Crosby-Lauer-Carey/ea9f2d5d9eec6a4f7d8630623496549dfd6ad3e3